Far from the Home I Love
- a major fundraising recital project
In 2019 Margaret is embarking on a very special piano recital series, working with a wonderful organisation called "City of Sanctuary" to raise money to support refugees in the UK.

The history of classical music is full of composers who left their homelands because of war, political upheaval or fear of persecution. Other composers who had to move country because of their work were arguably no less homesick. This concert tells the stories of some of these composers through their piano music. They resonate with the current climate of troubling attitudes towards refugees and those in exile. "Far from the Home I Love" is designed to give a cultural context to the theme of migration.

Her illuminating and varied programme includes works by Chopin, Grieg, Handel, Haydn, Prokofiev and Rachmaninov. Margaret has also specially commissioned a new piece by Arian, the Kurdish Syrian composer who wrote the stirring Refugee Nation Anthem for the 2016 Rio Olympics.

You can view the details of all the 'Far from the Home I Love' concerts on the Concert Diary page, and there is also more information on www.cityofsanctuary.org/farfromhome

Do come along to one of the concerts and help Margaret reach her target of raising £88,000 by the end of the year - that's £1000 for each of the 88 keys of the piano! You can also make a donation via her fundraising page www.givey.com/margaretfingerhut

It's going to be an exciting year!
Programme
Handel
Minuet in G minor
Haydn
Sonata No.38 in F, Hob.XVI/23
- Moderato, Adagio, Presto
Grieg
Three Lyric Pieces
- Solitary Traveller, Homesickness, Homeward
Francis Pott
Farewell to Hirta
Rachmaninov
Two Etudes - Tableaux from Op.39
- No.8 in D minor, No.9 in D
Interval
Moutaz Arian
Memories from my Land (Special commission
generously supported by Rob & Sara Lucas)
Hans Gal
Two Preludes from Op.65
Prokofiev
Two Pieces from Romeo and Juliet
- The Montagues and Capulets, Romeo bids Juliet farewell
Chopin
Polonaise in A flat Op. 53
Donate Now on Givey

£88,000 Target
Margaret is very grateful to the following major sponsors for their support of the project:
The Kohler Trust
Mark & Liz Astaire
Richard Bernstein
Guy & Sam Dawson
Rob & Sara Lucas
Hilary Newiss & Peter Bazalgette
Helen & Anthony Spiro
View Tour Dates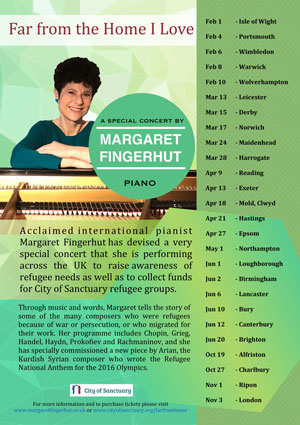 Download the flyer
Read article in Pianist magazine
"It was an amazing emotional roller coaster of a concert and I loved every piece. I have had many very positive comments from people about the content and the performance."
"It was such a well-conceived programme, varied and beautiful, really breathtaking."
"This is to warmly thank you for an incredible concert at Warwick Arts Centre last week! I have heard nothing but praise – from experienced concert-goers to first-timers, everyone had a great time and was really moved by the message that you conveyed so beautifully."
"It is truly great to be able to stir people in that way, and the research that must have gone in to pick such evocative pieces and find just the right things to say to engage the audience was genius."
"An enormous thank you for last night. Lots of people said how much they enjoyed the concert and were especially appreciative of how your introductions so enhanced the music. I felt it a real emotional rollercoaster, hearing the waves and sadness in the Pott piece and being taken back to my Moscow granny in the Rachmaninov. Think the Handel piece was probably my favourite."
"I wanted to thank you personally for the truly special evening last night. It was an inspired programme which you not only performed exquisitely, but also added the insight and humour which engaged everybody so well. There was such a great buzz and warm atmosphere which isn't always the case with church concerts!"
"Thank you so much for coming to Wolverhampton on Sunday to give us such a marvellous concert. It was a wonderful evening, and we have heard many positive comments since from those who attended. Your programme, chosen carefully to illustrate the theme "Far from the home I love", was both illuminating and very moving and will have resonated with many in the audience. It was a powerful combination of beautiful music and awareness-raising of the plight of those seeking sanctuary in our land."
"The whole event was very moving and encouraging just to hear how much is being done to support refugee families in the UK. Needless to say the music topped the evening!"