Far from the Home I Love
- a major fundraising recital project
In 2019 Margaret undertook a very special piano recital tour, playing a programme called 'Far from the Home I Love' at 32 venues across the UK to raise money and awareness about refugees. Drawing on the stories and music of composers who had to leave their homelands because of war or persecution, or who moved country because of their work, her unique programme gave a powerfully emotional context to the theme of migration and resonated with the current troubling attitudes towards refugees and those in exile.

On this page you can find out the details of the programme she played, read some of the acclaim and reaction, and see a selection of photos from her travels.

In the course of her tour Margaret performed in cathedrals, churches, synagogues, arts centres, universities and schools. Most of the concerts were in support of City of Sanctuary UK, which is a network of over 120 local groups around the country who are building a culture of welcome for refugees and asylum seekers. Margaret was presented with a 'Champion of Sanctuary' award by City of Sanctuary UK in recognition of her work.

Following her livestream concert during lockdown, Margaret achieved her fundraising goal of £88,000 - this represents £1,000 for every key on the piano. One of the most popular pieces in the programme she took on tour was 'Memories from My Land' which she commissioned from the Kurdish refugee composer, Moutaz Arian. This evocative and haunting piece is now available to download on Bandcamp
The solos from Margaret's livestream gala concert "Let Us Be Together" which took place in lockdown in June 2020 can be viewed HERE. The whole of the concert can be watched on FACEBOOK starting at 30 minutes in.
Programme
Handel
Minuet in G minor
Haydn
Sonata No.38 in F, Hob.XVI/23
- Moderato, Adagio, Presto
Grieg
Three Lyric Pieces
- Solitary Traveller, Homesickness, Homeward
Francis Pott
Farewell to Hirta
Rachmaninov
Two Etudes - Tableaux from Op.39
- No.8 in D minor, No.9 in D
Interval
Moutaz Arian
Memories from my Land (Special commission
generously supported by Rob & Sara Lucas)
Hans Gal
Two Preludes from Op.65
Prokofiev
Two Pieces from Romeo and Juliet
- The Montagues and Capulets, Romeo bids Juliet farewell
Chopin
Polonaise in A flat Op. 53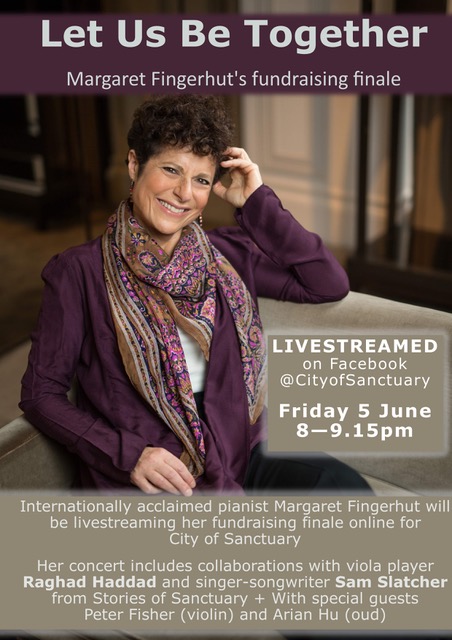 Let us be together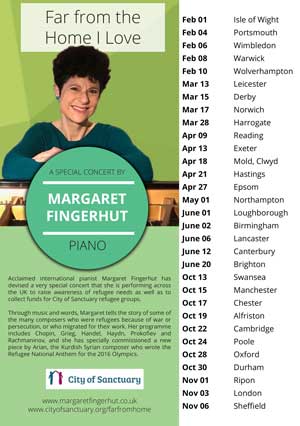 Download the flyer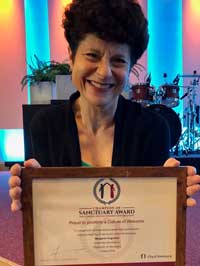 Read article in Pianist magazine
Margaret is very grateful to the following major sponsors for their support of the project:
The Kohler Trust
Mark & Liz Astaire
Richard Bernstein
Guy & Sam Dawson
Rob & Sara Lucas
Hilary Newiss & Peter Bazalgette
Helen & Anthony Spiro
Margaret would also like to thank the following people for their invaluable help:
Nina Kaye
Ben Margolis
Chris Neal
Nick Parker
Sam Slatcher
What a truly moving, inspirational, entertaining evening!
LONDON
Altogether it was an enchanting, entertaining, enlightening and educational evening. I would recommend it to all!
LEICESTER
What a wonderful and moving concert. Her commitment, her love of the music, her capacity to enter each piece and live it, and her extraordinary ability lit up our lives and those of the people we brought with us.
BRIGHTON
It was so moving. What an extraordinary privilege to have had such a wonderfully talented artist performing for us. And not only is Margaret Fingerhut an incredible musician but such a warm personality that engages her audience totally.
EPSOM
A truly wonderful and inspiring evening. The music and words conveyed so much and made so many connections for so many people. There have been many many positive comments – wonderful, outstanding, moving, informative, amazing, beautiful, powerful - to share just a few.
DERBY
A truly special evening. It was an inspired programme which you not only performed exquisitely, but also added the insight and humour which engaged everybody so well.
WIMBLEDON
Her performance left a profound impact on the audience.
LOUGHBOROUGH
A hugely moving gig. It really was a privilege to be in the presence of such an accomplished performer and humanitarian whose exquisite piano playing and story telling so tear-jerkingly evoked the heartache of exile.
MAIDENHEAD
Margaret's programme received prolonged and warmly felt applause from the audience knowing they had been in the presence of a truly captivating artist.
BIRMINGHAM
It was a fantastic and moving evening.
POOLE
What a wonderful concert! Lots of tremendously positive feedback and praise for the sensitive and virtuosic playing as well as the great choice of programme and interpretation.
SWANSEA
A truly magical evening.
HARROGATE
Margaret Fingerhut was an expert guide to her selected pieces not only pianistically but also verbally… If she's bringing this programme to a venue near you, you'll not only hear an evening of unostentatiously excellent piano playing, but you'll be lending your support to vital work on behalf of present-day refugees.
Mike Wheeler, Classical Music Daily)
Read Full Article